The digital divide refers to the gap between individuals who have access to digital devices and online services and those who are digitally excluded due to economic, geographic, age or physical conditions.
Technology offers numerous advantages to society. However, its availability is often determined solely by market forces, resulting in a digital divide that leads to disparities among individuals with and without access to digital technology. This growing issue has far-reaching consequences, exacerbating social inequalities in areas such as education, income levels, gender, regional disparities, etc.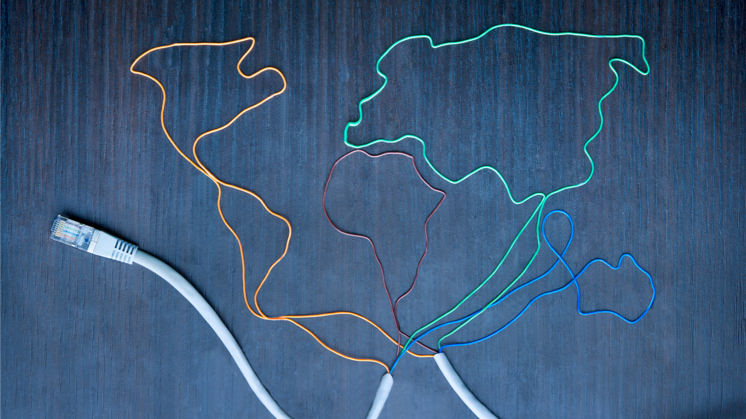 ―
Q. What constitutes the Digital Divide?
―
A. The digital divide refers to the gap between individuals who

have access to digital devices and online services

and those who are

digitally excluded due to economic, geographic, age or physical conditions.
New technologies are often expensive and complex, rendering them more accessible to certain groups of people with knowledge and wealth, while leaving underserved communities behind.
Those who already have Internet access have opportunities to enhance their knowledge and increase their income, while those without digital connectivity are unable to progress, thereby deepening the divide between the two groups.
The digital divide encompasses more than a mere disparity in access to information; it represents a division in ideas, emotions, and culture, ultimately leading to a new form of social inequality.
―
Prevalence of the Digital Divide
―
The goal of achieving "Internet for all" is still a long way off. According to the International Telecommunication Union's (ITU) 2020 report, half of the world's population still lacks internet access. People in poorer countries are often left out due to the high cost of digital technologies.
For example, A4AI (Alliance for Affordable Internet), an international nonprofit organization supporting internet access in underdeveloped countries, claims that the cost of 1GB of mobile data should not exceed 2% of monthly income for anyone in the world.
However, in many African countries such as the Democratic Republic of the Congo, Chad, Central African Republic, and Liberia, the cost is well over 20% of average monthly income. That is more than 10 times the threshold, making digital access unaffordable.
● Regional disparities
Africa has the lowest internet penetration rate among continents. Less than half of the population in Africa (43.1%) has internet access, in contrast to 93.4% in North America, 88.4% in Europe, and 80.4% in Latin America. (Source: Statista)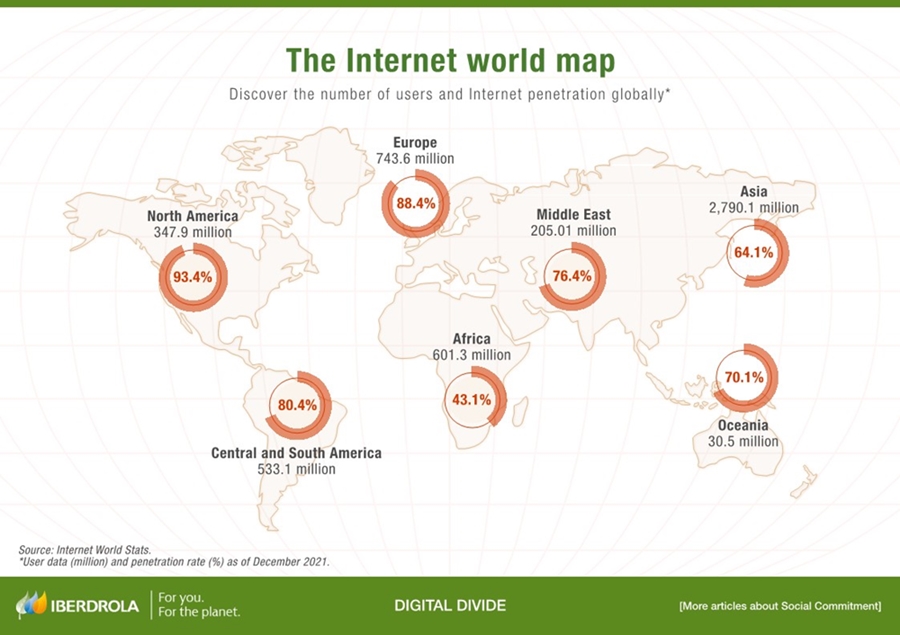 ● Digital Gender Gap
The digital gender gap is also significant. According to a 2020 report by the International Telecommunication Union (ITU), global internet usage is 55% for men and 48% for women, indicating that women have less access to internet than men.
The same report highlights Africa as the region with the biggest digital gender gap, with 37% of men having internet access compared to only 20% of women.
Addressing this digital gender gap is crucial because it negatively impacts the human rights of women and reinforces gender inequality.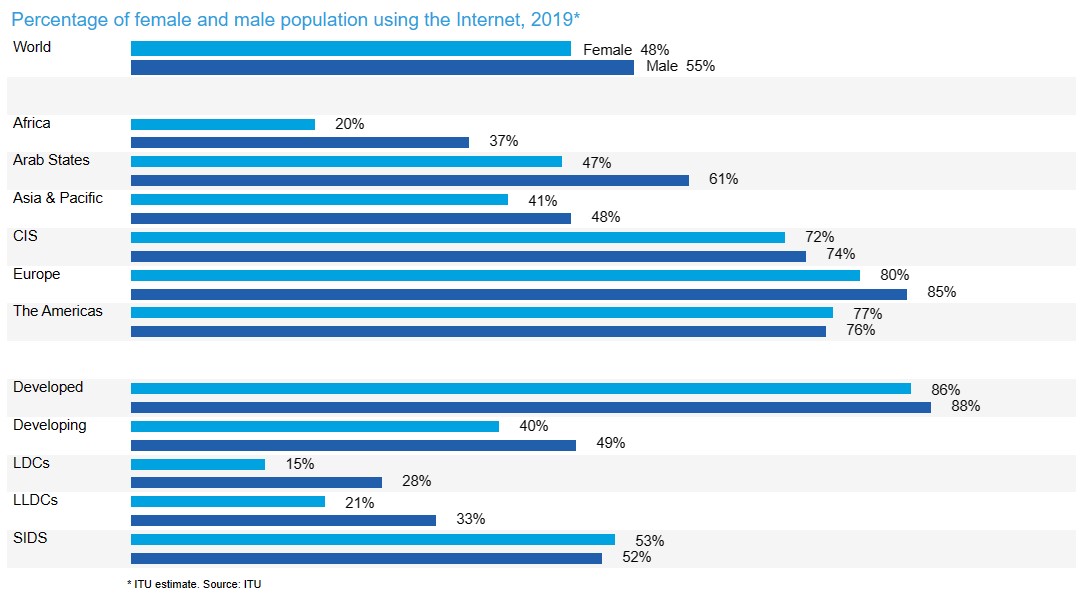 (Source: Internet Telecommunication Union (ITU))
―
Negative Impacts of the Digital Divide on Society
―
The digital divide may lead to the following social inequalities:
● Digital Divide in Healthcare
Internet access plays a vital role in public health, providing valuable health information and resources. Lack of internet access means limited access to these resources, which is particularly crucial during global health emergencies like the recent pandemic. And some health experts argue that broadband internet access "should be recognized as a social determinant of health."
● Digital Divide in Education
Insufficient digital skills and devices limits access to knowledge, perpetuating unequal learning outcomes.
The COVID-19 pandemic crisis had demonstrated the effects of the digital divide in education. Teachers and students without adequate technology and digital skills were unable to effectively continue their education during this time.
● Digital Divide in Economic Opportunities
Digital illiteracy creates an economic divide by reducing the chances of finding a job and accessing quality employment.
The absence of internet access means reduced economic opportunities and competitiveness for both the employees and employers.
―
Bridging the digital divide
―
The National Digital Inclusion Alliance is a U.S. nonprofit organization that promotes "digital equity by supporting community programs and equipping policymakers to act." It identifies the following five activities to bridging the digital divide.
①
Provide affordable and robust broadband internet service
②
Provide internet-enabled devices
③
Provide digital literacy training
④
Provide quality technical support
⑤
Provide application programs and online contents
―
Strategies on bridging the digital divide
―
The United Nation's Sustainable Development Goal 9 (SDG9) includes reduction of the digital divide. Several initiatives are underway in many parts of the world to facilitate access to technology.
Let's introduce some of the most relevant ones.
● Alliance for Affordable Internet (A4AI): A global coalition for internet equality
This project aims to provide affordable service in specific areas in Africa, Asia, and Latin America who are unable to use the internet due to high fees. Specifically, it aims to lower the cost of broadband to meet the UN Internet Commission's target of less than 5% of average monthly income.
● Free Basics
While the number of feature phone and smartphone users in low-income countries is growing, internet penetration level remains low due to high cost.
Led by Facebook, Free Basics partners with 81 mobile operators in 50 countries around the world to provide free access to online information including weather, news, maternal health, travel, jobs, and official government announcements.
● Starlink
A project by Tesla founder Elon Musk, this project launches satellites into space to provide high-speed internet and global coverage at affordable prices.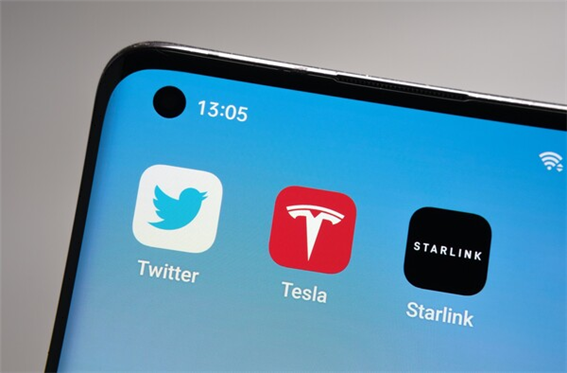 (Photo by Shutterstock)
Technology is a powerful tool for lifting people out of poverty.
To create a world where no one is left behind, we need to ensure that people who are not digitally savvy can learn digital skills and become empowered. We need the support and collaboration of the global community to transform the digital divide into digital inclusion.
"Yes, some person or group in some country develops each new technology.
The next step is to enable others to benefit, so that all can enjoy health,
well-being and comfort. This is the way of mutual prosperity."
-Founder of the Sunahk Peace Prize
Hak Ja Han Moon-
Written by: Yeon Je Choi
Translated by: Hyang Oh